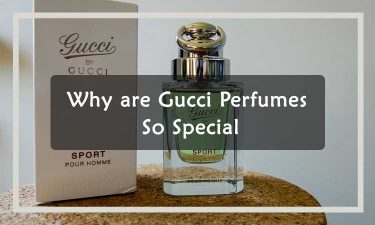 Gucci was first originated in 1921 by Guccio Gucci. Gucci introduced the world to its first perfume in 1974 named Gucci No. 1 for women. This perfume has a floral and woody scent. After that, Gucci brands becomes one of the best perfume brands in the world.
Now, this brand has almost 100 fragrances in their catalog. They were made perfume from fine oils to delicate flower petals or tree roots. Many of you may not know why are Gucci perfumes so special. There are some reasons for this. Let's talk about those.
Reasons-Why Gucci Perfumes Are So Special
There are some reasons for it. Below we are going to discuss the reasons on ​​"why are Gucci perfumes so special."
Unique Ingredients
Gucci uses unique and artificial ingredients to create their perfumes. They use rare flower petals, rosemary and jasmine to give stay longer and get a pleasant scent. They use a kind of flower that blooms for only one month a year and gives you pleasant fragrances.
So it is one of the reasons that Gucci perfumes are so special. They also use other ingredients to give you unique and best perfume. Below we are talking about the ingredients.
Bulgarian Rose: It is a kind of rose flower that emerges from a valley in Bulgaria every May. They are cultivated this rose so that they can give you the Bulgarian rose fragrances.
Jasmine: The Gucci brand takes about 240000 handpicked jasmine flowers to bring one ounce of essential oil.
Ambergris: It is a waxy substance that comes from the intestines of semen whales. Gucci uses it to give its flavors a distinct taste in the aroma.
Oud: Oud is another type of oil extracted from agarwood's heartwood that has been exposed to certain types of mold. Gucci uses this type of oil to create one of the best perfumes.
Orris: It is considered as one of the rare perfume ingredients. It is derived from the root of the iris. The Gucci brand uses this ingredient to prolong the aroma of its parts.
Wonderful Fragrances
The fragrances of Gucci perfume is considered one of the best fragrances in all over the world. For instance, Gucci bloom is a beautiful fragrance that made with modern white floral. In addition, this perfume often vapid, sanitized, and lacking in personality.
Like Gucci Bloom, all other perfumes of Gucci made a unique design and pleasant fragrances. Therefore, this is one more reason that Gucci perfumes are extraordinary.
Luxurious packaging
Brand name Gucci knows that perfume making in beautiful packaging can enhance that experience as well as make their products stand out in a sea of ​​scents.
Gucci brands made perfumes in crystal bottles that make it extremely valuable. The brand also made perfume in other bottles that boast embellishments like solid gold and diamonds.
Final Word
Gucci perfume is one of the best scents in all over the world. Hopefully, after reading the article, you know why Gucci perfumes are so special.