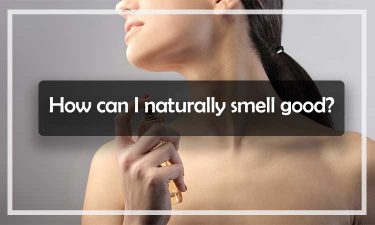 It may sound enigmatic if someone asks how I can naturally smell good. Well, the answer is not very complicated. You can naturally smell good if you know the tricks and tips.
A few every day and easy steps can make you smell good naturally. All you have to do is to bring some small changes in lifestyle and ways of using perfumes.
Stay Hydrated
This is the most essential thing to smell good naturally. Does it sound a little strange? It may, but it's true. Proper hydration also moisturizes your skin.
Water keeps the balance between acid and alkaline in the body. It controls the overall body odor. Besides, a hydrated skin dissipates any perfume and helps them to float in the air.
Keep the Hairbrush Scented
Your hair can be a great source of a pleasant smell. In ancient days, women used to put scented vapour on their hair to make them smell fresh and aromatic.
Put a scented product on your hairbrush and use them every day. You can smell the difference after each use.
Use scented body oil
Body oil both keeps the moisture trapped inside the skin. Thus, it helps the natural scent to disperse evenly.
Use scented essential oil in your regular body oil. The combination will both lock moisture and make you smell amazing.
A light Deodorant will go a long way
It is not always necessary to wear a heavy tone of perfume. You can use a light deodorant to fight with body odor.
The lighter deodorants work best if you hit the gym or go for a daily jog. No matter how long you are there, you will always smell fresh and flashy.
Diet means a lot
You smell what you eat. Therefore, your diet influences your natural smell the same way it affects the bad breath.
If you have too much garlic or spices in your diet, you will find yourself smelling the same. Unless you have a medical condition, try a different food to see which one suits you most.
Use a good soap for a great smell
The best time to put on perfume is right after taking a shower. The moist skin quickly soaks the essential oil of the scent and keeps it for, sometimes, day-long duration.
Using a good soap will ensure a better way to moisturize your skin. Thus, you will smell amazing for a longer period.
Keep a Scented Sachet in your wardrobe
Putting a scent on your clothes is always great. However, if you can put small sachets of scents in your wardrobe, things will be more mesmerizing.
Already scented clothes will add extra layering of fragrances. This layering is essential for smelling good naturally.
Make sure you put the sachet in every section of your wardrobe, especially in the undergarments section. They take a heavy toll of perpetual smells while you are in the workout.
Make your body lotion a scented one
Like a good soap, body lotions also moisturize your skin. If you can make them scented, the action will be doubled.
Now you will have a hydrated and scented skin free of any body odor.
Use a blend of diverse Note
Perfume is like music. In both cases, you need to mix and match the higher and lower notes. However, it is essential to know the perfect combination.
If you are not sure how to do it, click here and make your own tone of perfume.
Do not overlook the shoes
Most of the time, we ignore this essential part of our wardrobe. Nevertheless, they may turn out to be the deciding factor sometimes.
Put a few drops of essential oil inside the shoe after each use. Next time when you will take it out, it will always surprise you.