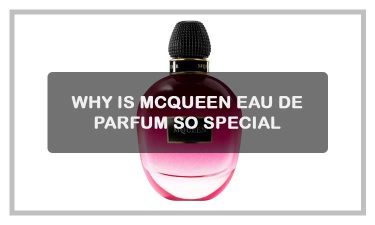 Perfume is as important in your choice as a garment; you have to choose it thoroughly. It's the first thing you get, so it's straightforward to convey a good or bad impression. The aura that the bottles give off has an enormous capacity for evocation, which causes you to associate it with a specific person when you meet again with that smell.
Alexander McQueen was one of the greatest British fashion designer who invented this great perfume. He has a fashion house which was famous even years after his death because of his sense of beauty and fashion.
McQueen Eau de Parfum, created by Alexander McQueen's fashion house, is truly royal splendour of colourful fragrances. It surprises with its original form. He gives full power, making a woman the queen of men's hearts. This perfume is worship of court ethics.
What makes this Eau de Parfum so unique?
-Perfectly selected aromas. The perfect blend of the ingredients makes it unique. McQueen Eau de parfum, therefore, reflects this duality between freedom and seduction, and results in an oriental result, with floral notes.
The fragrance is the best combination of past and present. Fresh and assertive at the same time, the top note diffuses a lively scent of Pink Pepper and Black Pepper, seconded by Cloves. A more floral heart note takes over, Tuberose, Ylang Ylang and Sambac jasmine in the centre. And, as a base note, there is indeed patchouli, vetiver, and white musk, to which is added a touch of vanilla for a more marked sensuality.
The advantage of this fragrance is that it is suitable for young girls as well as for women, attractive and provocative while staying classy.
You will win every kingdom with Alexander McQueen Kingdom Eau de Parfum!
Anyway, McQueen – Eau de Parfum has become a staple in the seduction parade of many women. Its notes, like its bottle, are signs of femininity and sophistication.
Conclusion
There is absolutely no doubt that McQueen Eau de perfume by alexander McQueen is trendy among women. It's one of those fragrances that when you see it in the perfume shop, you think: God! This is the perfect bottle for very feminine women. It has a pink bottle, and the plug gives a feeling of precious stone. It is created for a sophisticated, flirtatious woman with a touch of a girl.