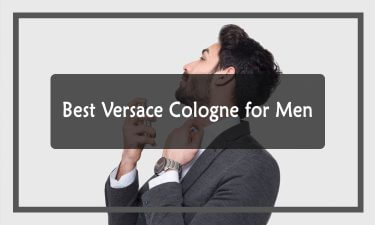 Best Versace cologne is one of the unique and most wanted presents you can give to your loved ones or even yourself. It is like a treat that everyone will certainly love to have.
Man of all ages loves wearing Versace, especially the younger generations. And why not? Their smell is so unique that it is hard to forget and rare to find at such a price.
Every passer-by, irrespective of man and woman, will turn their heads while passing by you. It is also not their fault, as such masterpieces are bound to attract and mesmerize everyone around. So how to pick the perfect one?
Don't worry. To help you around and make things easier, we have made an honest review of the 4 best Versace cologne. And also have given reasons why they are worth investing in and adding to your collection.
Best Versace Cologne
Versace colognes are a classy brand that sells and comes with exclusive perfumes for both men and women. All of their products are just too good that you will never regret investing in them. Instead, you will fall in love with them.
Here, we are with the top-rated and most selling Versace cologne for man. So take your time and have a look at them to know which is the perfect one for you:
The most enticing, interesting and best Versace perfume for men has to be undoubtedly Eros. Those who have used it before already know what I have meant by that. It comes with a sweet, fun-loving and cheerful vibe that is bound to make one happy.
Many people have said it works like magic in uplifting one's mood rapidly. No matter how low you felt, one use of this perfume is enough to do the trick. Besides making you happy, the smell is soo good and appealing that it will for sure grab the surrounding eye's, making you the centre of attraction.
What makes it more interesting is it has a longevity of as long as 18 hours. Furthermore, they are highly suitable for date nights and can act as a magnet for attracting your love towards you. Although you can wear it all year round anywhere, the best and killer timing has to be cold weather and open areas.
Hence, if you are looking for a cologne with a masculine aura that has a joyful touch, then the Eros cologne presented by Versace is the one for you.
Top Notes: Mint, Green Apple, Lemon.
Middle Notes: Tonka Bean, Ambroxan, Geranium.
Base Notes: Madagascar Vanilla, Virginia Cedar, Atlas Cedar, Vetiver, Oakmoss.
After Eros, the next one must be Versace pour Homme based on the public votes and huge sales of it all year round. Although it doesn't come with a charming look, still who cares!!!
The main thing is the smell and sensations one gets from it. However, many people have questioned its outlook. So this initiative is brought into action to lessen the cost. So these handy items became affordable, and more and more people can buy and use them.
Now, moving on to the smell and longevity, the aroma is so charming, fresh and tempting that everyone is bound to fall in love. It blends perfectly with all types of clothing.
The perfect time to wear this cologne is summer days and late spring, though you can use it at any time. In the wintertime, if you use it, you will get a pleasing citrus-freshness smell coming from your dress.
So if you merely judge it by its outside look, you will miss such an experience that will be hard to find from various stylish looking colognes.
It is such a good scent that it will never upset you. Instead will work as a crowd-pleaser wherever you go wearing it.
No wonder it is the most popular Versace perfume since 2008. Hence grab the opportunity and buy this cologne if you want a fresh feel with a charming aroma.
Top Notes: Lemon, Neroli, Bergamot, Rose de Mai.
Middle Notes: Hyacinth, Cedar, Clary Sage, Geranium.
Base Notes: Tonka Bean, Musk, Amber.
Eros flame is the newest Versace perfume, a fiery and reviving alternative version of the famous Eros. It gives a new oriental sensation and aroma upon application.
After its launch, there have been several debates and controversies regarding the best title among Eros and Eros flame. Well, it is bound to happen as both have the same name with the addition of flame in the new one.
Both are having a tough fight while competing among who is the Versace perfume best seller.
No matter who wins, both are top-rated perfumes from viewers and sellers perspective. The highlighted thing about Eros flame gives a sensual spicy touch that stays for a long period of 8-10 hours.
Another soothing and attractive thing about the Eros flame is the bottle comes with a flaming red colour to match its name perfectly. The spiciness makes it way different from the other perfumes, making you the core of charm.
You can wear and use it all year round, but you can use it on date nights for the best result, especially if you intend to drive your partner crazy.
Top Notes: Mandarin Orange, Black Pepper, Chinotto, Lemon, Rosemary.
Middle Notes: Pepper, Geranium, Rose.
Base Notes: Vanilla, Tonka Bean, Sandalwood, Texas Cedar, Patchouli, Oakmoss.
Eros Eau de parfum comes with a unique oriental woody aroma that men of all ages simply love. In addition, the bottle itself has an artistic vibe that draws attraction to it.
Besides, the tempting and charming smell is the most surprising thing you will discover while testing it.
It feels like that the perfume is calling you, saying it is the perfect one for you. But if you are a person who doesn't like the woody scent, then it is not for you.
Upon applying, you will get a refreshing vibe that you have just had a long walk from the fresh woods. You can wear it anywhere you want to get a fruity, spiced and woody feel and aroma. If not more, it has longevity over 12 hours.
Top Notes: Mint, Candy Apple, Lemon, Mandarin Orange.
Middle Notes: Ambroxan, Geranium, Clary Sage.
Base Notes: Vanilla, Leather, Sandalwood, Cedar, Patchouli, Bitter Orange.
About the Brand
Versace is such a brand that everyone knows and loves, from normal people to celebrities. It is rare to find anyone that doesn't like Versace.
Versace is an Italian fashion design that sells various products: accessories, dresses, home furniture, cosmetics, perfumes and colognes, etc. One of the attractive things about Versace is they have never compromise with the quality.
All of their products are exclusive and have a luxurious touch to them. However, the 1st Versace fragrance was release for a woman, namely Gianni Versace, in 1981. Since then, they are winning people's hearts by presenting new and exclusive items every year.
Who Makes Versace Perfumes?
I.C.R owns about 25% of Gianni Versace Profumi and is the leading maker of the most popular Versace perfumes. In fact, they are the 1st manufacturers to introduce Italian designer perfumes in the industry back in the seventies.
What makes them different from others is they create designers perfumes for outside customers also. From 1978 (founding year) to the present, they are bringing new collections constantly for both man and woman. As a result, they are successfully attracting generations after generations.
Some of the most popular Versace female perfume and man are Versace L'Homme, Eros, etc. However, the most recent collections added are jeans and blue jeans.
How to Choose Versace Perfume?
Picking Versace perfume is a tough call, especially when you have a huge range of collection to choose from. Luckily, there are some helpful tips that you can follow while choosing the one for you. Have a look:
Kind of Smell
We all have different type of liking and dislikings. So the number 1 thing to consider while buying perfume is the type of aroma you like you to wear. Ask yourself which aroma gives you the most amazing feeling: sweet and tangy, floral, woody or spicy?
Look for Similar Notes
If you are a person who loves similar notes and don't want to try different notes, then always look for similar notes perfume. As similar notes, perfumes tend to smell almost alike.
Never Try Several Perfumes
Many people may say that using too many perfumes gives you an idea of everything. Well, it is right, but at the same time, it makes you extremely confused. That's why you must try the ones that make your heart go wonder.
Feel the Notes
While testing a perfume, the best is to feel all the perfume notes as much as possible. If you can sense it properly, you will know the exact smell coming from you for the rest of the day.
See the Longevity
Longevity is a crucial factor in the case of perfume. However, all Versace perfumes are long-lasting. Still, the better is to check the duration properly before buying so you can see whether it meets your demands or not.
So, if you are a person who loves colognes, then the best Versace cologne is something you should definitely try.
To Conclude
Versace cologne is like a habit. The more you use them, the more you fall in love with them. There is basically no turning back from them that much good and worthy they are. Although it is a bit hard to pick the right one among such a best collection, we hope we have been able to help you in making the right call.