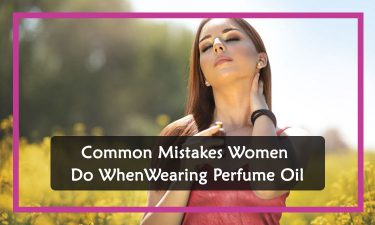 Are you a perfume lover and love to spray perfume before going out? But are you doing it in right way or not? Perfume is always not about just sprinkling; instead, you have to take it in a way that it lasts long.
We are all aware of perfumes and their different types. It generally comes in a relatively expensive spray bottle, which is composed of alcohol, essential oils, and aroma. But you might not even know what perfume oils are.
Perfume oils are one of the most delicate fragrances in the world. It is entirely made of natural ingredients, which is very much good for both health and mind. Both males and females can wear it. But it is mostly used by males.
So if you are a woman and want to know common mistakes women do when wearing perfume oil and how to apply it properly, then this article is for you.
So let us start by knowing what perfume oil is and their different types.
What is perfume oil?
The perfume oil is a kind of essence that is extracted from different types of flowers, fruits, leaves, or even trees. It is also known as fragrance oil or aroma oil. It is best for those who have sensitive skin.
It can also be used on the body instead of perfumes. These types of oils are not very expensive, but it stays for a long time compared to costly perfumes and colognes. It is because perfume oils are alcohol-free.
The pleasant smell that we get from soaps, hand washes, body washes, etc. is because of the use of perfume oils in it.
Different types of perfume oil
If your fragrance does not stay for a long time, then you should go for perfume oils. There are different types of such oils. Some are as follows:
Vanilla: This is oriental and unisex perfume oil.
Sandalwood: The oil extract from this wood has a calming and soothing effect. It has a sweet floral smell. So it is better to use it on a romantic occasion. Both males and females can wear this oil.
Cedarwood: Both males and females can use it. It has a calming, woody, and earthy smell. It combines very well with floral and citrus notes.
Cinnamon: This oil is powerful and must be used in a small amount. It also acts as an antibacterial and antifungal agent.
Lemongrass: This oil is beneficial to discharge tension, nervousness, and depression.
Peppermint: It is a safe and spicy oil and can be poisonous if used more. It is helpful to get rid of the pain.
Wild Orange: It is a citrus oil that is extracted from different types of orange. This oil helps to relieve stress and add freshness. It is one of the best fragrance oils.
Rose: It is one of the most refined floral oil that is mostly used by women.
Lavender: This oil has a sweet and fresh floral smell. However, the aroma of this oil changes according to the origin of the soil. For example- the Dutch variety has a strong odor, and on the hand, the French version has a sweet floral fragrance.
Common mistakes women do when wearing perfume oil
Wearing perfume oil properly is not unknown to us. But yet there are some common mistakes women do while wearing it. If you are one of them, then read it carefully to avoid it in the future.
Shaking it before the application.
Wearing the oil in the wrong part of your body.
Applying the oil into clothes.
Applying moisturizer at first like Vaseline or petroleum jelly.
Rubbing the aroma oil.
Overusing the oil.
How to apply perfume oil properly?
So you have known the common mistakes to avoid. Now the question might arise in your mind, then what are the proper ways to apply the oil. The answer is as follows:
Apply it on the pulse points of your body like the inner wrist and neck. You can also focus on the elbows, cleavage, and behind the ears.
Dab the oil so that it properly settles on the body.
It is better to apply the oil before 30 minutes of stepping out of the house. This will give the perfume oil to match with your body's natural oil and heat.
If you want a bold smell, then finish layering the oil.
What is the difference between perfume oil and perfume? [Perfume oil vs perfume]
Many of you may think that perfume oil and perfume are the same. But the interesting fact is there are many differences between them. Those are as follows:
Strength of fragrance
Perfume oils are incredibly concentrated, which is around ten times than the perfumes. So the perfume oils last longer than the perfumes of all types.
Use of alcohol
Alcohol is used in manufacturing perfumes to create a different fragrance. But perfume oils do not have alcohol, which results in constant smell. Oils like jojoba and grapeseed are used instead of alcohol.
Market price
Perfume oils are much cheaper than perfumes. It is because perfumes are sold in big markets, and many celebrities are promoting them. On the other hand, many people are even unaware of perfume oils.
Product packaging
Perfumes are very finely packaged as they are sold in big markets and also gifted to loved ones. On the other hand, perfume oils are packed very ordinarily and sold in a low attractive jar.
Use in other materials
Perfume oils are used in soap, body wash, candle, bath salt, air freshener, and in many different products, but perfumes are not.
Benefits of natural perfume oil
Natural aroma oil also has many benefits that perfume does not have. It is non-drying on the skin and preferable for people with dry skin. It also has a relaxing and soothing effect.
As it is made from totally natural ingredients and alcohol-free, it can be used in the treatment of cut or injury. It is also animal test free.
How are perfume oils made in a laboratory?
At first, the natural oils are collected from the source by different methods like distillation, enfleurage, solvent extraction, and so on.
Then the oils are mixed with a laboratory-made chemical aroma in a minimal amount. Without the use of this, perfume oil will not smell strong. Alcohol is not used here.
The mixed ingredients are then to be heated in a low flame to avoid burn. This will increase the concentration of the oil.
After the oil is cool down, it is to be preserved in a dark container.
How to make your perfume oil at home?
It is effortless to make your perfume oil at home. Suppose we are going to make "Rose Essential Oil." The things we will need are rose, water, few drops of essential oil, a vessel to heat all the ingredients, and a dark empty jar to store the prepared oil. Now let us look at the recipe.
First, in a vessel, take half a cup of mineral water. Pour 10 big red roses into it.
Heat the mixture with the help of a stove in a very low flame.
Once you see that the concentration of the water became thick, add 20 drops of any essential oil.
Then turn off the stove after 10-15 minutes.
If you want the smell to be bolder, then keep it for some few more minutes in low flame.
Let it then set down to cool.
Now it is ready to pour in a dark empty jar. It would be best if you always choose a dark pot as sunlight can hardly penetrate through it.
Reasons you should try perfume oil
There are many reasons you should try perfume oil at least once in your life. Some of these are:
Perfume oils are alcohol-free. So it stays for a long time.
They are not packed in a spray bottle. Therefore there is no possibility of losing any percent of the oil.
It is easy to apply.
There are many types of perfume oil beyond perfumes.
Where and how are perfume oils sold?
Perfume oils are most commonly sold in a small jar or as a stick. It does not have any spray mouth; instead, you have to roll it on your skin. It can be found starting from over the counter to big shopping malls. The price of it depends on the packaging, quantity, and the quality of the product.
It is mostly manufactured in the Middle East countries, China, United Kingdom, United States, France, Russia, India, Malaysia, and so on and distributed throughout the world. Fragrance oils are best famous among the people of Asia, Africa, and Europe.
As it is alcohol-free, Muslim people use it more often.
Name of some famous perfume oils
Some renowned perfume oils are sold at a high price in big shopping malls. You can also get those directly into your home through home delivery. Some of them are:
Kora Organics Heart Chakra Aromatherapy Oil
Anine Bing Savage Rose Perfume Oil
Elizabeth and James Nirvana Black Perfume Oil
Aventus Perfumed Oil from Creed
Rose Perfume Oil from Kai
Amber Fragrance Oil from Nemat Perfumes
Conclusion
It is always healthier to use natural ingredients over things made of artificial ingredients. It is not only beneficial to our health but also good for our environment.
So it is better to use perfume oil made from natural ingredients rather than perfumes made from synthetic. But applying it correctly is an art that many people do not know.
So the above article is for you if you are unaware of perfume oil. I hope you are benefited and will try perfume oil at least once. It is also a better choice for a gift.