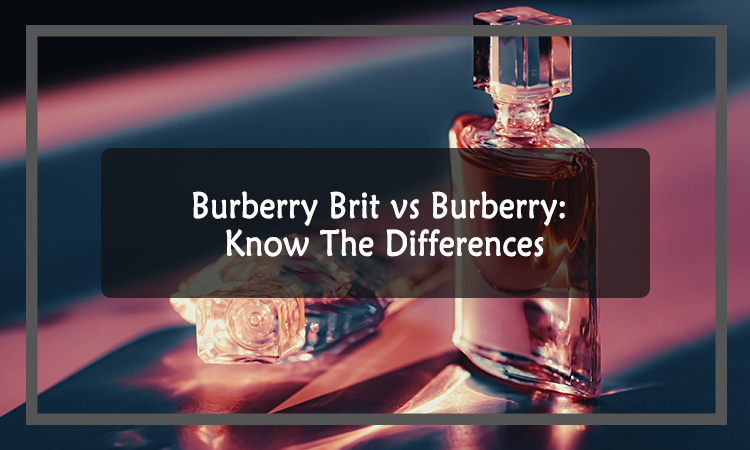 Elegant and British- that is how the Burberry brand established them as a luxury brand. From the British Royals to celebrities, the fan base of this brand is touching the sky. They are famous for their plaid design called "nova Check." You will find this on their various products, such as scarves, umbrellas, handbags, and even perfumes.
Now that we have started talking about Burberry perfumes let's see what it's all about Burberry Brit vs Burberry.
What Is Burberry Brit?
Although most of the Burberry fragrances were created in recent years, the productions began in 1981. Gradually with the popularity, they increased their line of fragrances, especially after 2000.
In 2003 Burberry launched their new collection of perfumes as Eau de Parfum. In 2004, they brought the Eau de Toilette version for men called Burberry Brit.
Burberry Brit persists in the concept of modern and English elegance through a sweet and delicate fragrance. It can be classified as oriental with floral features thanks to nutmeg, cardamom, and wild roses.
Burberry Brit for men is easy to read and understand. But, above all, it's elementary to use because of its festive, warm, woody, and welcoming nature. Its composition is simple in concept and execution but no less than sophisticated.
Burberry Brit Vs Burberry: What are the difference between them?
Burberry and Burberry Brit are two different fragrances with their own unique qualities. And you don't have to be an expert on fragrances to understand that. From the composition to the scent- both are different, although having seemingly comparable notes.
The composition
Burberry has mostly a woody, sensual aroma. It protrudes an elegant English tradition.
High notes: Tarragon, Cinnamon and Grapes and mint
Heart notes: Cedar, Nutmeg, Patchouli, birch leaf, and Lavender
Base note: Wood (Guaiac, Sandalwood, amber wood), Oakmoss, and Vetiver.
On the other hand, the Burberry Brit is more of a woody yet floral, warm fragrance. It has a sweet punch with classic yet casual essence.
High notes: Cardamom, Green Mandarin, Ginger, and Bergamot
Heart notes: Nutmeg, Cedar, and Wild rose
Base note: Gray mask, Oriental Woodsy, Patchouli, and Tonka bean.
Fragrance
The initial scent that hits us with Burberry is the mint. However, the cool mint doesn't overshadow the warm woody flavor of cedar and Amber.
While the Burberry Brit has more spicy kicks initially. It is warm too but more of a sweet flowery feeling.
But both of the perfume has a perfect balance between the flavors.
Influence
Both of the perfumes are a milder projection. They are not too strong to notice. But probably the Burberry is a little stronger because of the mint, whereas the Brit is milder and softer due to the heart notes.
Performance
Performance-wise, both the fragrance is equally great. They last longer and slowly wear off. They both stay 7-8 hours which is more than enough.
Usability
Both of them are for casual wear. They are perfect for everyday use. But none of them are too flashy to wear at parties or nighttime. The warm essence is ideal for fall or winter.
Is Burberry Brit Real? How to Know If the Fragrance Is Real or Fake?
Because of the popularity of this high-end brand, there are various knock-off products available on the market. While some are found on the flea market, some very carefully made fake fragrances are in stores or online shops.
And people, unaware of the quality, fall for the scams. So, how to know if the Burberry Brit is real?
Packaging
Authentic Burberry Brit packaging is seamless. They are packaged wonderfully and elegantly. The wrapping is made with thick cellophane, and the plastic is tightly placed.
On the other hand, the fake products are wrapped hastily. As a result, they don't have the perfect outlook.
Color
Burberry doesn't use a high amount of dye in its fragrances. So, they appear light in color. Check if your perfume is darker in color. Then it may be fake.
The Bottle
Like most other high-end brands, Burberry Brit has a smooth, flawless bottle. It will feel premium when touched.
Symmetrical cap
The cap of the Burberry Brit has a symmetrical shape and design. There is a logo under the spray hole. Unfortunately, a fake perfume doesn't have that flawless look.
Serial number
The bottles of authentic Burberry Brit have a serial number engraved under the bottle. The exact number is in the packaging. Check if the serial number is glued on or doesn't match with the package. Then most probably, this is a fake one.
Final Verdict
There is no comparison between Burberry Brit vs Burberry since fragrances are a personal choice. However, if you like to have a mild but warm essence as casual wear, both are your ideal choice. And as for the quality, what can be better than Burberry?
FAQs
Where is Burberry Brit made?
Most of the Burberry perfumes and Burberry and Burberry Brit are made in France and Spain.
Where is Burberry manufactured?
Same
Are Burberry and Burberry Brit the same?
No. although they have similarities in them, they are two different fragrances.
Who created Burberry Brit?
The leading man behind the fragrance Burberry Brit is Antoine Maisondieu. And Francis Kurkdjian is the nose behind Burberry.
Is Burberry Brit for men?
Burberry Brit has fragrances for both men and women.